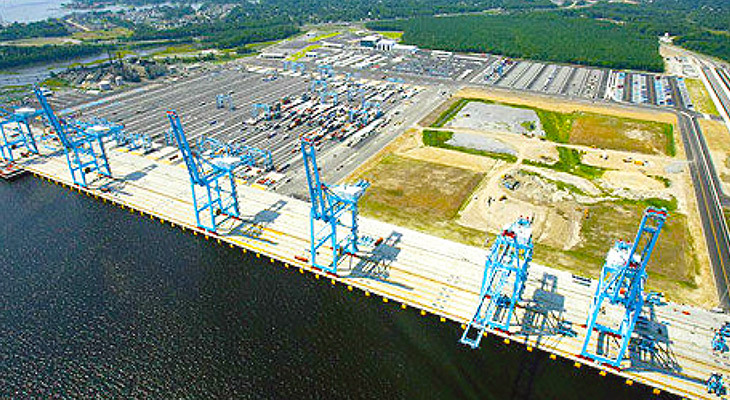 Project Profile
Project
New Shipping Terminal Application with Special Weather and Safety Issues
Property Owner
A.P. Moller Group
Hiring Contractor
Mr. Adinew Zeleke - Project Manager
Tompkins Builders, Inc.
Phone: (202) 789-0770
Location
Portsmouth, Virginia
Roof Area
30,000 Square Feet
System
Standing Seam Metal Roofing, 60 Mil. Sarnafil® PVC Flat Roofing Membrane
APM Terminals, a world leader in international shipping with operations across the USA, wanted to expand its business in Portsmouth, Virginia. Plans called for a mammoth, new marine container operation to be built along the busy Elizabeth River, which would include three terminal buildings — all needing durable, watertight roofs.
Tompkins Builders, the building contractor in charge of APM's expansion, already had a solid working relationship with Tidewater Roofing and asked them to handle the roofing portion of the job.
APM wanted the best materials available on the market. The project was a huge, costly undertaking and the terminal operator did not want roofing to be an issue in the future. Following APM's specifications, Tidewater Roofing proceeded to roof the newly constructed buildings with a special Sarnafil® PVC; the most reputable flat roofing membrane money could buy.
The waterside job proved to be a logistical challenge as coastal wind patterns and the inevitable moisture containing airborne salt posed a constant threat to crews and their attempts to maintain a dry application. However, the situation was nothing new to Tidewater Roofing, which had completed numerous coastal projects with huge success. In order to secure a watertight working environment (particularly with the main five-story building), Tidewater designed the new roofs with strategic tapering to ensure proper water drainage. The contractor then used "overnight tie-ins" to keep the work areas clean and dry during non-working hours.
To further complicate matters, Tidewater Roofing found itself working in close proximity to other building contractors, as well as APM's dock personnel. Safety was a key issue. Hence, Tidewater adhered to each of the terminal's site policies and strictly followed its own built-in operational procedures. The result was a textbook installation, void of any incidents or safety violations.
The successful addition of APM's Portsmouth terminal positions Hampton Roads as one of the three largest and busiest commercial shipping ports on the East Coast.