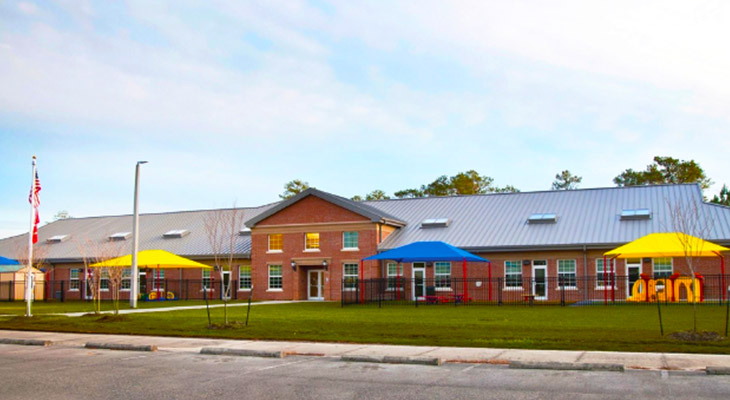 Project Profile
Project
Simultaneous, Nationwide New
Roof Applications
Property Owner
United States Military
Hiring Contractor
Mr. Alvin Girardin - Project Manager
Atlantic Marine Construction, Inc.
Phone: (757) 362-0023
Location
Multiple Military Bases, Across the USA
Roof Area
Average 15,000 Square Feet
System
Framing, R-Panel Metal Roofing, Exterior Trim & Gutter Systems
Dollar Value
More than $1.5 Million
In response to a predicted post-war baby boom, the United States military began increasing its number of child care and development centers across the nation.
The massive project, spanning from coast to coast, called for a roofing contractor with extensive experience in government contracts. It also required an operation capable of managing simultaneous projects in different states, while meeting the military's strict specifications.
Atlantic Marine Construction, responsible for overseeing the effort, had already awarded Tidewater Roofing with over a million dollars worth of remodeling work and knew Tidewater was up to the task.
Tidewater Roofing's long-standing reputation as a government endorsed contractor (touting numerous referrals from each branch of the military) and its status as a tested, drug-free operation made the company a clear choice.
Stage I of the project commenced in 2005, with the installation of heavy duty trusses, R-panel metal roofing, exterior trim work and gutter systems on numerous buildings throughout Fort Carson, Colorado.
Tidewater Roofing then used its logistical expertise in multi-project crew coordination, on-time material delivery, adverse weather preparation and OSHA safety practices to tackle base projects, located at: Anniston Army Depot, Alabama; Air Station Miramar and Camp Pendleton, California; Fort Stewart and Hunter Army Air Field, Georgia; Fort Riley, Kansas; Fort Campbell, Kentucky; Fort Drum, New York; Camp Lejeune, North Carolina; Fort Bliss and Fort Hood, Texas; Naval Station Norfolk, Virginia; and Fort Lewis, Washington.