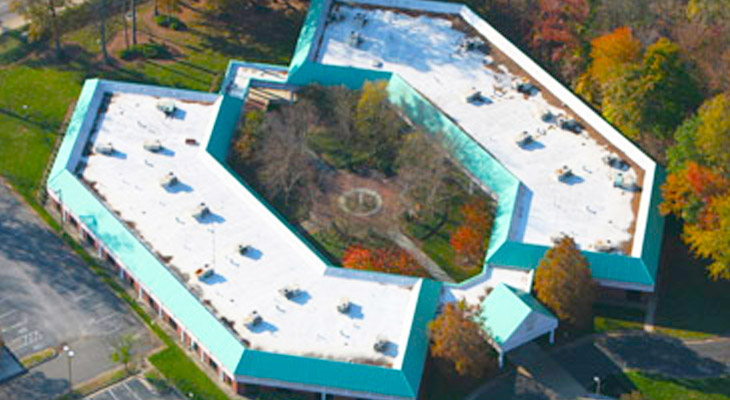 Project Profile
Project
Complete Re-Roof of a Medical Facility, Requiring Patient and Personnel Protection
Hiring Contractor
Mr. Max Miller - Property Manager
Hamner Development Company
Phone: (757) 873-1777
Location
Newport News, Virginia
Roof Area
32,940 Square Feet
System
Mechanically Attached, Hot Air Welded .05 Mil. IB® Roofing System
Tidewater Roofing had been performing roof repairs at Oyster Point Medical Center for over five years before it was finally determined that the facility needed a new roof. In 2005, Hamner Development Company (responsible for managing the commercial property) initiated the renovations with a call to Tidewater Roofing.
The job required some special handling as the existing stone ballast, EPDM roofing and underlying insulation all needed to be removed before any new installation could begin.
In addition, precautions had to be taken to ensure that patients, visitors and personnel were not endangered by the renovations and medical services were not disrupted.
Upon further inspection, Tidewater Roofing also discovered that the structural integrity of the roof was in doubt and the entire wood decking would also have to be replaced.
Within days, the deteriorated sheathing was removed, all new wood decking was installed, and a fresh layer of insulation was laid. Tidewater then installed a mechanically attached, hot air welded .050 millimeter IB® roof system over the entire roof surface, using factory-approved plates and fasteners.
The IB roof systems used by Tidewater Roofing are bright white and proven to be 90% reflective — greatly enhancing energy savings. These savings vary from job to job, but Tidewater has found that the IB product (on an average) enables its clients to recoup their entire roofing investment within an eight to 12 year period!
Since the completion of its new roof system, Oyster Point Medical Center has experienced no roofing problems and is fully covered by a 15-year, 100% non-prorated material and labor warranty.