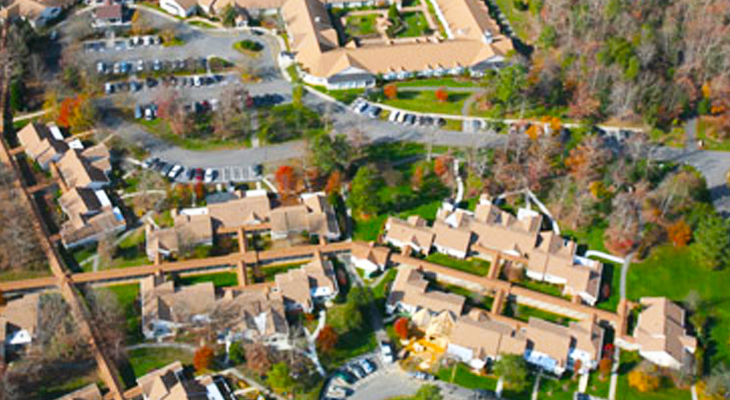 Project Profile
Project
Huge, Very Affluent Retirement Facility with Time, Noise and Safety Restrictions
Property Owner
Rappahannock Westminster-Canterbury, Inc.
Hiring Contractor
Mr. David Shields
Maintenance Manager - RWC, Inc.
Phone: (804) 438-4044
Roof Area
70,000 Square Feet
System
30-Yr. Architectural Shingles, 50 Mil. IB® PVC Flat Roofing Membrane, Premier Vinyl Siding, K-Guard® Leaf-Free Gutters
Rappahannock Westminster-Canterbury, one of the state's largest and wealthiest retirement community operators, was having difficulty finding a contractor that could take on the volume of roofing work necessary to renovate its Irvington, Virginia location.
The immense size of the retirement village and its strict requirements were primary deterrents for most of the local roofers, who did not possess the manpower, equipment nor time required to complete the project. Contrastingly, Rappahannock's somewhat remote location prevented many of the larger roofers (located in the closest cities) from accepting the job, as travel expenses would cut into their profits.
It was then that Rappahannock's maintenance manager heard of Tidewater Roofing. Tidewater was well known throughout the region and its award-winning commercial roofing division was large enough to handle projects statewide. One of Rappahannock's major concerns was the protection of its residents and visitors, so Tidewater Roofing's impeccable safety record made the contractor even more attractive.
Despite an already full workload and Rappahannock's remote location, Tidewater Roofing accepted the project and began work on the facility's vast exteriors. First on the list, was to re-roof structures that were in the worst shape. This large undertaking was then followed by a number of repairs to the village's flat and shingled roofs, as well as siding. Within a few short weeks, Rappahannock was once again exceeding state and national standards.
Tidewater ran into its biggest challenge when it came time to re-roof the 5,000 linear feet of covered walkways, used by thousands of elderly residents on a daily basis. Safety was of utmost importance and Tidewater could not afford to leave even one nail on the ground. Hence, all work areas were roped off, safety monitors were used, and extra hours were spent at the end of each day to ensure a spotless cleanup.
As a finishing touch, Tidewater Roofing installed its exclusive K-Guard® Leaf-Free Gutters on the facility's apartment buildings — guaranteeing no more cleaning!