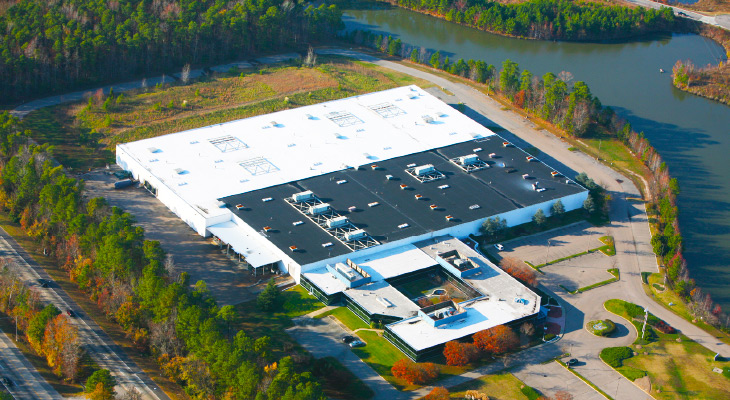 Project Profile
Project
Large Scale Retrofit with Minimal Effect on Plant Production
Property Owner
Sumitomo Machinery Corporation of America
Hiring Contractor
Mr. Ron Wilson
Plant Maintenance Coordinator
Sumitomo Machinery Corp.
Phone: (757) 485-3355
Location
Chesapeake, Virginia
Roof Area:
300,000 Square Feet
System
0.5 Mil. IB® PVC Flat Roofing Membrane
When one of the world's largest machinists found themselves in need of a new roof for their 300,000 square foot assembly plant, it was pretty clear which professional contractor would be awarded the job.
The Chesapeake, Virginia-based Sumitomo Machinery Corporation had been using Tidewater Roofing to perform roofrelated repairs for many years.
"We have had nothing but good experiences by working with Tidewater Roofing," states Ron Wilson, Plant Manager at Sumitomo. "Every time we've ever needed them, they've been there for us — and that kind of prompt service is hard to find these days! Tidewater is more than fair with their pricing, their work is clean, thorough and efficient, and the follow-up on every project is proof of their professionalism."
Sumitomo's massive facility houses several millions of dollars worth of office and manufacturing equipment. Therefore, the company wanted a 100% watertight roofing system for the protection of its assets. As a primary producer of gears for various electric motors, Sumitomo also required building materials that could withstand dust, debris and exposure to chemicals.
The company encountered numerous roofing options over the course of their bidding process. However, Tidewater Roofing (with its 25+ years of experience in large commercial projects) presented the perfect solution. Aging smoke vents were replaced with new ones and a special IB® flat roofing membrane was used to retrofit more than half of the building. The 0.5 millimeter membrane provided a totally sealed system with built-in fire resistance, and boasted an impressive track record of roofs performing over 25 years without a single membrane failure!
By purchasing its new maintenance free roof system from Tidewater Roofing, Sumitomo received peace-of-mind that the company's vast investments were fully protected.