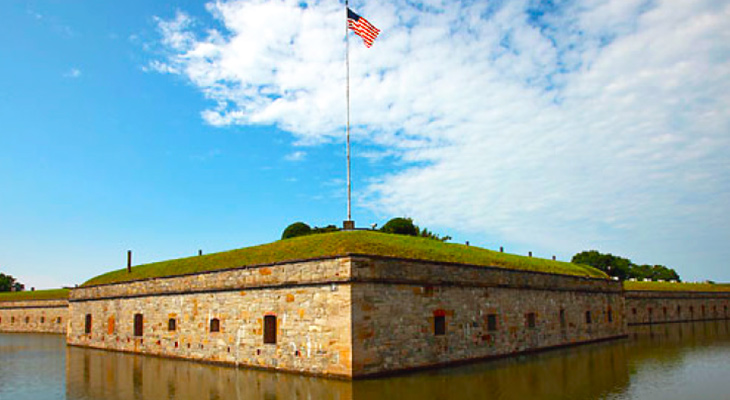 Project Profile
Project
Combination New Roofing and Roof Repairs for High Security Military Forts
Property Owner
United States Army
Hiring Contractor
Ms. Robin Hilling - Contract Performance Evaluator, Department of Public Works
Phone: (757) 878-3190, ext. 261
Location
Hampton, Newport News and Virginia Beach, Virginia
Roof Area
>150,000 Square Feet
System
30-Yr. Architectural Shingles, Customized Slate, Flat Roofing Membrane, Metal Roofing, 5" & 6" Aluminum and Copper Gutters
Dollar Value
More than $1.5 Million
Like thousands of others throughout Hampton Roads, the U.S. Army experienced extensive property damage from Hurricane Isabel in late 2003.
In a desperate attempt to restore daily operations as quickly as possible, the Army turned to the Department of Public Works and its two general contractors, AMC and Centennial for help. Many of the damaged buildings were old and now, following the storm, were structurally unsafe. It would take a seasoned professional to perform roofing work to the Army's specifications and all three organizations knew who to go to – Tidewater Roofing.
Tidewater had a reputation for responding quickly, providing impeccable craftsmanship and adhering to OSHA's strict safety policies; the Army's primary concerns. An additional factor was security. Following the recent September 11, 2002 terrorist attacks, the country was on high alert and anyone entering or leaving military property was subject to thorough investigation.
Tidewater Roofing's first assignment was to assess damages at the Army's Fort Eustis in Newport News. The contractor was given only half a day to inspect 120 buildings and prepare a proposal for all necessary repairs. Within three short hours, Tidewater presented the fort with a detailed scope of work and a total repair cost well under the Army's budgeted figures for the project. Flat, shingle and metal roofing was performed on everything from the Army's base housing and barracks to its airport hangars and Aviation Mechanics A-School. Throughout the course of the newfound relationship, Tidewater Roofing was careful to never overprice projects and always provided service above and beyond the Army's expectations. The huge and time-consuming effort paid off as the Army developed such a trust in Tidewater Roofing that it gave the contractor a credit card for use in future roof work and repairs.
Shortly thereafter, additional projects were given to Tidewater Roofing at the Army's Fort Story in Virginia Beach (which included a special metal roof conversion for the Officer's Club) and Fort Monroe in Hampton (featuring a re-roof of the Commanding Officer's Building, home to some of the Army's "top brass"). Both locations called for the restoration of office space, museums and historical buildings – some requiring customized slate.
To date, Tidewater Roofing has successfully provided the Army with over $1 million worth of emergency roof services.