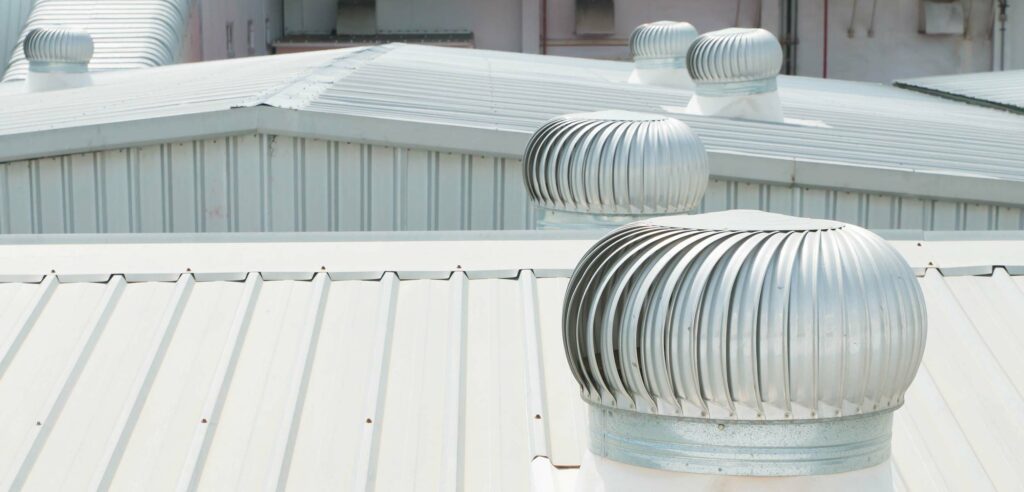 A commercial roof protects the structure, as well as what's contained underneath, from the elements. Assets, employees, and customers all depend on roofing that works! This makes the roof of any commercial building one of the most important investments a business can make.
Given that there are many different styles of buildings, there are also different types of commercial roofs. The materials you can use depend on whether you have a low-sloped, flat, or angled roof.
If it's time for a roof replacement, you probably want to know what your options are. The installation process and costs are also important. So give us a call at Tidewater Roofing. Our commercial roofing experts can take a look at your structure and let you know what roofing materials will work with your space.
Flat or Low-Sloped Roofing Materials
Many commercial and industrial buildings are structured with flat or nearly flat roofs. This design gives space for equipment to rest, such as AC or an exhaust system, and is more cost-effective than building a sloped roof on a large building. Flat roofs are also safer for access on large structures.
But a flat roof requires protective material that will prevent water and weather from getting inside. Let's explore the types of roofing materials common for commercial buildings with flat or low-sloped roofs.
Tar or BUR Roofing
Tar-and-gravel roofing, often known as "BUR" or "built-up roofing," is one of the most popular commercial roofing solutions. Designed for flat roofs, multiple layers of waterproof material are frequently alternated with hot tar and a mineral aggregate surface layer.
BUR roofing can be installed with any number of layers. Depending on the number of layers recommended for your application, this style of roof can also provide cost savings. But it's important not to sacrifice protection for pricing, as this can lead to more expensive troubles down the road.
If your business is in need of a low-slope roofing solution, this may be the best option.
Torch Down Roofing
Also known as torch-on roofing, torch down roofing uses a flame (from a propane torch) to fix and adhere roof layers. Layers of asphalt membrane (known as bitumen) are applied to the roofing deck to ensure protection and stability.
Modified bitumen roofing is simple to maintain, but it does require a yearly inspection to determine its condition. This style of roofing is highly long-lasting and is best suited for commercial buildings with heavy foot traffic on the roof.
Thermoset Roof Membrane
This is a versatile, long-lasting, and almost maintenance-free commercial roofing also known as EPDM (ethylene propylene diene terpolymer).
It offers high resistance to ultraviolet light as well as ozone and is made primarily from a rubber material. Available in both black and white, this type of roofing comes in a broad variety of widths, ranging from 7.5 feet to 50 feet, as well as thicknesses of 45 or 60 mm.
EPDM can be installed ballasted, mechanically fastened, or fully glued in the seams of the roofing system sealed with liquid adhesives or specialty tape that is formulated for the material.
Thermoplastic Roof Membrane
Thermoplastic roof membrane includes TPO (thermoplastic polyolefin) and PVC (polyvinyl chloride).
This type of commercial roofing is best suited for buildings occupied by oil-emitting businesses such as restaurants. It's lightweight and resistant to UV light, chemicals, and oil. It can also withstand high temperatures, fire, and wind.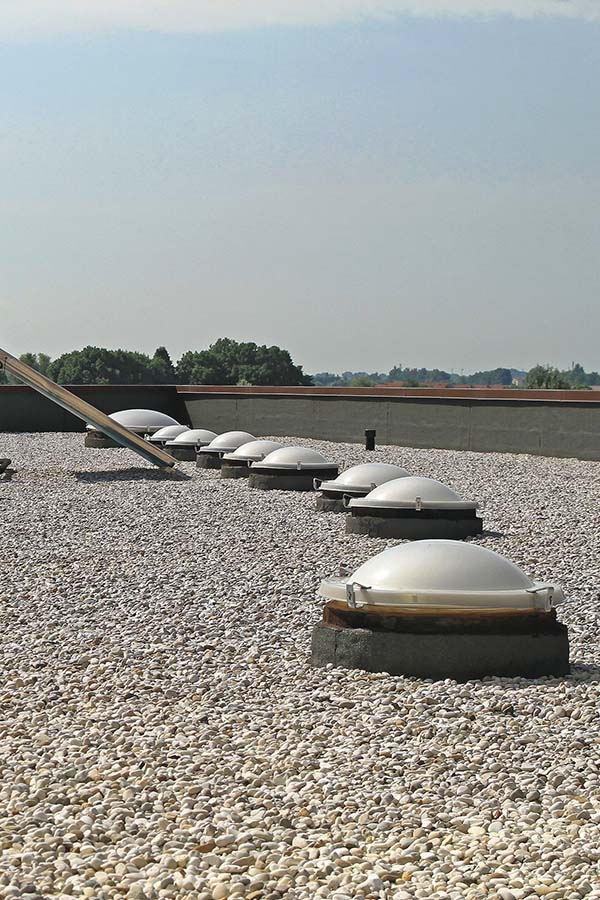 Shingles for Sloped Commercial Roofs
Not every commercial roof is low-sloped or flat, which means for some businesses, shingles are an appropriate choice of roofing material. Shingles are not designed to hold still water, which makes them a very poor choice for flat roofs.
Roof pitch describes the angle or steepness of a roof. Your commercial roof should have a roof pitch of at least 2:12 if you plan on installing shingles. This means that for every 12 horizontal units out, there is a drop of 2 units vertically.
Measuring roof pitch can be difficult without the proper equipment and safety knowledge. Leave it to a commercial roofing contractor! Tidewater Roofing can assess your commercial building and let you know if shingles are an available option.
Asphalt Roof Shingles
Asphalt shingles are made by coating a fiberglass or organic base with asphalt and applying mineral granules to the surface. Lightweight asphalt shingles are a popular roofing material for commercial buildings because they are relatively inexpensive and easy to install. Asphalt shingles are also available in a variety of colors and styles, so you can choose a roof that best matches the look of your building.
There are 3 main types of asphalt shingles:
● 3-tab asphalt shingles, which are the cheapest but also the least durable. These shingles are a single layer in thickness and least durable against harsh weather.
● Architectural shingles, also called dimensional or laminated shingles, are thicker than 3-tab and provide a more pleasing aesthetic.
● Luxury shingles are the highest-quality asphalt shingle. These are more durable and have an aesthetic more similar to wood or slate.
Rubber Roof Shingles
Rubber roofing is a durable and weather-resistant roofing material that is ideal for commercial buildings in areas with extreme weather conditions. Rubber roofing is also eco-friendly, as it is made from recycled tires.
Installations with rubber shingles are more expensive than asphalt, but not as expensive as other shingle types. Hampton Roads sees its share of storms, so talk to your roofer to see if this is a durable option for your sloped roof.
Metal Roofing
For buildings with sloped roofs, metal roofing is one of the most popular commercial roofing options. Metal roofing is available in a range of forms, including metal tile sheets, corrugated galvanized steel, stainless steel, aluminum, copper, and tin. Aluminum, zinc, and silicon-coated steel aggregates are also available.
Metal roofing is frequently coated to protect it from corrosion and to maintain its long-term resilience in the face of adverse weather. Metal roofing is incredibly durable with the right maintenance and care.
Other Types of Shingles
If the aesthetic of your roof is important to you and your business, there are several shingle options available. Some shingle types such as slate and clay are quite heavy, and may not be appropriate for your roof or structure.
If your commercial space has a sloped roof our roofing specialists can let you know about all types of shingles available. Here are some common types:
● Wood shingles or shakes
● Slate shingles
● Clay shingles
● Composite shingles
● Solar shingles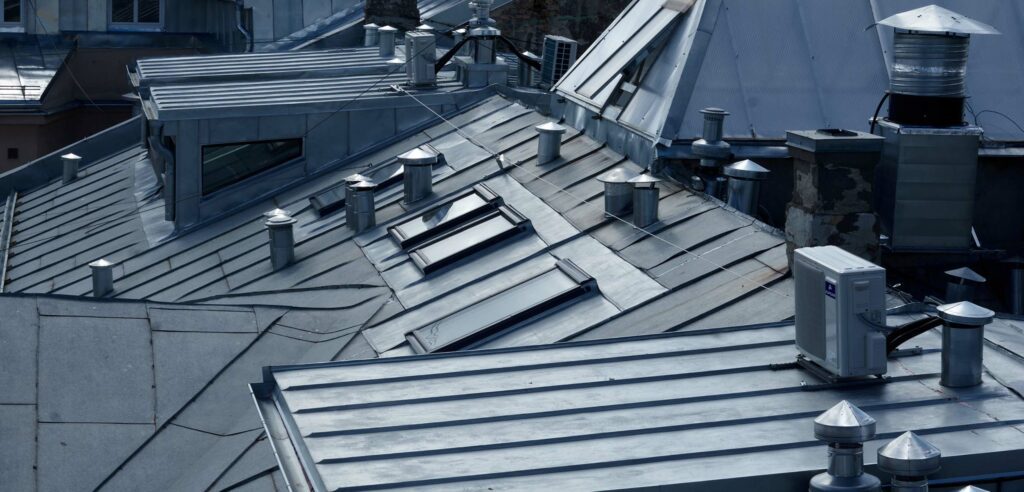 How to Decide on the Right Roofing?
The "best" type of commercial roofing material really depends on the type of structure you have, the weather conditions, and your budget. And not every roof is suitable for every type of commercial roofing. Determining if your roof is sloped enough for shingles is one of the first steps.
With so many options out there for commercial roofing, it's best to rely on the industry experience of the professionals at Tidewater Roofing. After assessing your roof, we can determine what type of protection you'll need and what options are available.