As one of Virginia's longest-operating roofing companies, we've installed literally hundreds of thousands – if not millions – of asphalt shingles on homes and businesses all across the Richmond area.
We've installed asphalt roofs, metal roofs, sloped roofs, flat roofs, big roofs, small roofs… you get the idea.
In this post we thought we'd cover an important topic: what type of asphalt shingle is best for your roof?
"What Are the Best Shingles for My Roof?"
This is the most common question we get, and it's a good one. The truth is that not all shingles are the same. In addition to the different types of roofs available (flat/sloped, asphalt/metal, etc.), there are also different grades of shingles to consider.
We thought that this brief guide would help inform your decisions, giving you context around what each type of shingle is suited for and what type is best suited for your needs.
First, Determine Your Needs
The obvious answer may be "I need a roof over my head", but the question is a bit more complicated than that. Before you select a shingle type, it's important to understand your needs:
What are your expectations regarding durability and warranties?
How important is the aesthetic appearance of the shingle to you?
What kind of longevity do you need?
What is your budget? Are you prepared to make a larger investment for a long-term solution, or do you need a smaller investment to meet your immediate financial needs?
These questions seem simple enough, but the answers can have significant influence on the shingles we install on your home.
Comparing the Two Main Kinds of Shingles
More than 75% of American homes have asphalt shingles on their roof. In addition to being affordable, asphalt shingles are also durable, robust, well supported, and ideal for most Virginian homes. There's a lot of valid reasons why they are so popular!
There are two main types of asphalt shingles: organic shingles, and fiberglass shingles.
Organic Shingles
Made from a cellular fiber compound (such as recycled paper), combined with asphalt, and compressed into a singular sheet (AKA, the shingle!)
Easier to install than other types of shingles
Heavy, strong, and durable- excellent wind resistance
Able to withstand sudden changes in temperature
Organic shingles are rapidly losing market share to fiberglass shingles.
Fiberglass Shingles
The most popular type of shingle
Made from a fiberglass mat with an asphalt coating
Excellent heat resistance
Less likely to lift or peel
Improved fire resistance compared to organic shingles
High solar reflectivity helps keep your home cool in the summer
Fiberglass shingles are often called "architectural" or "dimensional" shingles.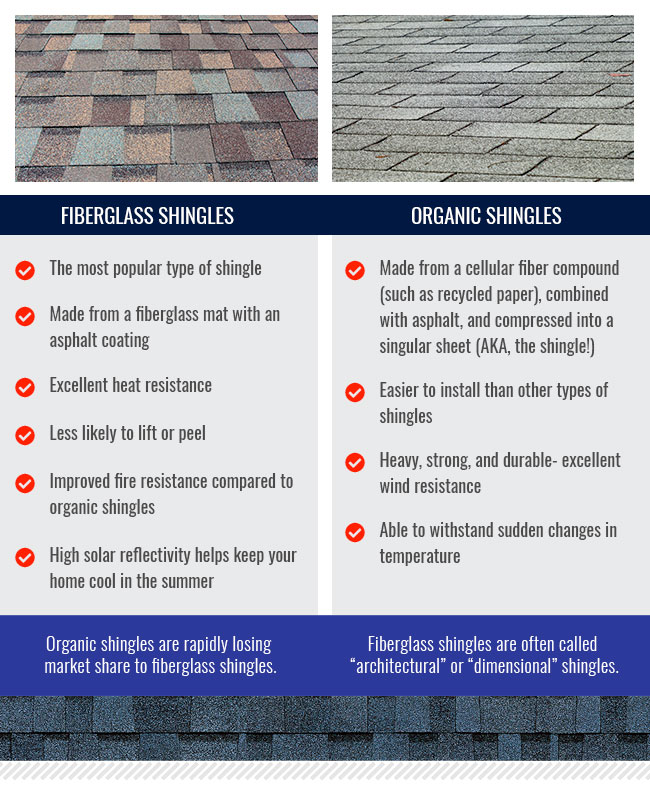 Other Points to Keep in Mind
The shingle you choose for your home should be chosen on more than price alone. Other factors, such as the anticipated life and estimated cost for minor repairs/replacement, should also be taken into consideration.
Not only that, but aesthetic concerns also play a role. Once the roof is installed, you'll have to live with it for 10, 15, 25, or even 30 years- make sure you like how the shingles look!
Important Points
Installation considerations for organic/fiberglass shingles are relatively similar. However, organic shingles are heavier. Older homes, or homes that have already had a roof replacement, should consider the weight of organic shingles when making a decision.
Dimensional shingles often have a higher upfront cost but can last for years longer than organic shingles.
Organic shingles, due to their heavier weight, are better suited to areas that are prone to high winds.
Architectural shingles are available in a wider range of colors and styles
So, Which Type of Shingle is Best For You?
At Tidewater, we generally recommend that our clients make the investment in fiberglass/architectural shingles. There are a few reasons for this recommendation:
They are more aesthetically pleasing, offering a layer of dimension that complements your roof and adds aesthetic value to your home. Conversely, organic shingles are generally single-layered and "flat". They don't look bad, but they also don't stand out.
Fiberglass shingles have a longer proven shelf life. Unless you're intending on moving from your home within the next few years, the investment in fiberglass shingles will pay for itself years from now when you aren't replacing your roof every 10-15 years.
They are lighter and place less stress on the roof.
The cost difference between an organic shingle and a fiberglass shingle is decreasing every day!
Of course, we are happy to come pay your home a visit to help you decide. Each home is a little different, and decades of experience empower us to help our clients make the right decision. If you are looking for a new roof, we'd love to connect.