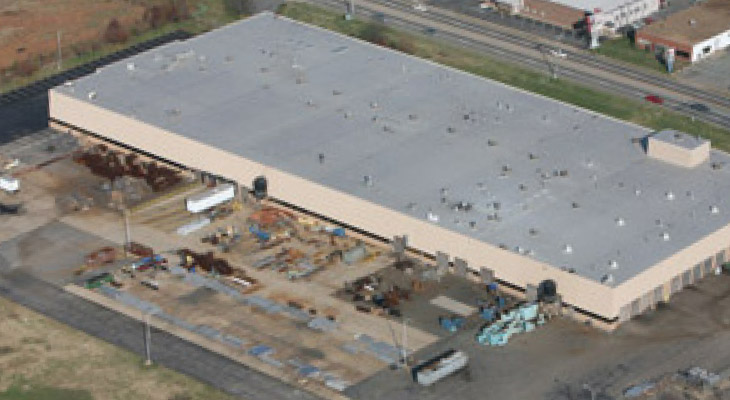 Project Profile
Project
Emergency Roof Replacement for
Busy Manufacturing Plant
Property Owner
Catalina Cylinders, Cliff Impact Division
Hiring Contractor
Mr. Jeff Cunningham
Vice President & General Mgr.
Catalina Cylinders
Phone: (757) 896-9100
Location
Hampton, Virginia
Roof Area
150,000 Square Feet
System
80 Mil. IB® ChemGuard™ Flat
Roofing Membrane
During one of Southeastern Virginia's most severe cold spells, the 150,000 square foot roof over Catalina Cylinders' manufacturing plant shattered into pieces from the freezing cold temperatures. The disaster brought Catalina's business to an abrupt halt and caused thousands of dollars worth of damage to the building's interior.
Faced with the possibility of having to shut down their entire operation on a busy Monday morning, Catalina Cylinders called Tidewater Roofing for help.
"Within one hour, our building was crawling with roofers," said Jeff Cunningham, Catalina's Vice President and General Manager. "They diligently worked to clear the building of snow and ice, while extracting all efforts to tarp the roof and minimize damage."
Bitter cold winds and precipitation made the job a challenging one. However, Tidewater's largest threat was an even stronger storm that was fast approaching. Proper timing was critical.
Despite the uncooperative circumstances, Tidewater Roofing's efforts were a success. Over 2,000 bags of sand were used to ballast the miles of tarp and plastic, and Catalina's manufacturing plant was secured before another storm could arrive.
"Tidewater Roofing's crews labored well into the evening without complaint," Mr. Cunningham continues. "The end result was more than we could have expected. Our roof was in a watertight condition, allowing operations to continue. Tidewater mobilized their equipment and operations
without delay, saving us thousands in production time and insurance loss."
Upon more favorable weather conditions, Tidewater Roofing installed a new, totally sealed roof system, using a special IB® ChemGuard™ flat roofing membrane that resists acids, alkalines, greases, oils, salt water and ozone — and comes with a Class-A fire retardant rating.