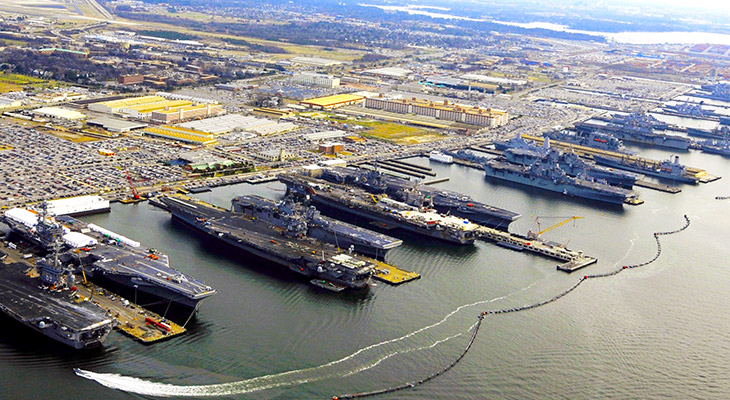 Project Profile
Project
Combination New Roofing and Roof Repairs for High Security, Historical Military Bases
Property Owner
United States Navy
Hiring Contractor
Ms. Carol Curtis - President & CEO
NOAH Enterprises, Inc.
Phone: (757) 437-2300
Location
Norfolk and Portsmouth, Virginia
Roof Area
>100,000 Square Feet
System
30-Yr. Architectural Shingles, Customized Slate, Flat Roofing Membrane, Metal Roofing, 5" & 6" Aluminum and Copper Gutters
Dollar Value
More than $700,000
NOAH Enterprises, a minority owned contractor with 8-A status who specializes in the restoration of historical housing units, was in need of a roofer that could install custom roof systems to the strict (and sometimes unique) specifications of a landmark property. NOAH was acting as a general subcontractor for Lincoln Properties, who had secured a 50-year contract with the U.S. Navy to restore, renovate and maintain naval housing.
NOAH approached Tidewater Roofing, due to Tidewater's long standing relationship with the Army. NOAH recognized that in order to qualify as a government or military endorsed contractor (as Tidewater Roofing was), the contractor had to be well versed in all major roof systems, maintain an excellent safety record and be able to provide services in a very timely manner.
Additionally, Tidewater had been thoroughly checked out and had obtained enough security clearance to work on some of the world's most highly secured military bases.
NOAH's first assignment for Tidewater Roofing was to re-roof six houses on "Admiral's Row" at Naval Station Norfolk in southeastern Virginia. The high-profile residences were historical buildings, each with their own customization needs. By using a combination of 30-year architectural shingles, slate or copper roofing, 5" and 6" aluminum or copper gutters, and Hardie Plank™, cedar shake or vinyl siding, Tidewater was successful in restoring the grand old homes to their original splendor.
Tidewater Roofing then went to work on other base housing and barracks, located at both Naval Station Norfolk and the Norfolk Naval Shipyard in Portsmouth, Virginia. Shingles and/or flat roofing, guttering and siding were installed on family housing units, such as the Navy's "H Quarters", and were neatly finished with a detailed trim.
The renovations were completed with such satisfaction that NOAH Enterprises now uses Tidewater for all of its roofing, guttering and exterior remodeling needs. The company knows that when safe, professional services are required in an expedited manner, Tidewater Roofing can and will deliver!